General Contractor in Bozeman, MT
Renaissance Renovations has been transforming homes throughout Bozeman, MT since 1980, through comprehensive remodeling and home addition construction. Our workmanship is unmatched and we proudly tailor our abilities to meet your highest expectations.
Rest assured, with us on the job, it'll get done right the first time! Contact us today to schedule a consultation.
Improving Your Home
One Room at a Time
Your home is the biggest investment you'll ever make—make sure it's one you absolutely love! Working with Renaissance Renovations guarantees a home that's modern, luxurious and comfortable, so you can make the most of your living space. Whether the time has come to remodel your bathroom or fix up your guestroom, it pays to work with a general contractor in Bozeman, MT who pays keen attention to the details that make your home truly unique and one-of-a-kind.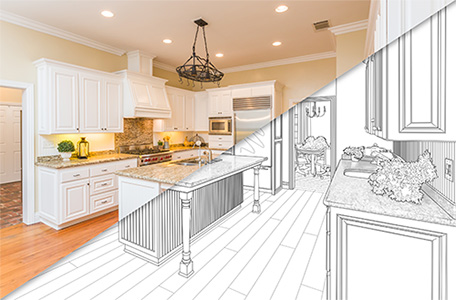 As a seasoned remodeling expert and drywall contractor in Bozeman, MT, we handle renovations of all sizes and scales. Our specialties are kitchen and bathroom remodels, however we also work on home additions of all types, including bedrooms, master suites, second-floor additions and even garages. Whether you're looking for immaculate finish work in your new kitchen or want the allure and prestige of custom tile in Bozeman, MT for your bathroom update, our team will deliver it. We take the time to do the job right, the first time, always working toward your vision of home perfection. Whether it's updates, improvements or additions, count on us to help turn the home you love into the best version of itself.
Ready to Remodel?
If you're ready to improve the look and feel of your home or add a new space entirely, Renaissance Renovations can help! We go the distance to deliver superior craftsmanship and stunning results, because we treat your home like the investment it is. Our goal is helping you maximize that investment! Count on us to unlock the full potential of your home.
Our team has more than 40 years of remodeling and construction experience, giving us the ability to work on projects of all sizes.

We meet face-to-face with all our customers, to speak with them one-on-one and review their homes to understand exactly what they want from their remodel or addition.

Look to us for complete remodeling services! We can add bedrooms and bathrooms, as well as second-story additions and even garages.

Our focus on craftsmanship shines through in every job we do. We make it a point to deliver on even the smallest details, adding value to your home.
Bring new life into your home
With specialties in custom tiling and fireplace renovations, count on us to introduce beautiful focal points and amenities into your living space. For over 30 years, we have proudly provided General Contracting and Remodeling Services in Bozeman, MT the following areas:
Four Corners
Camona
Chestnut
Hoppers
Livingston
Belgrade
Manhattan
Logan